"Ladies, and Gentlemen. Engines, and coaches. I give you Sir Robert Norramby, Earl of Sodor."
— The Fat Controller, King of the Railway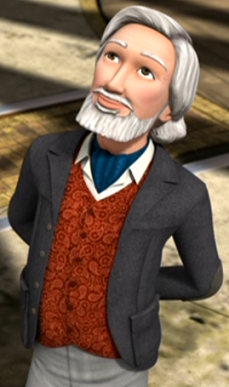 Sir Robert Norramby, the Earl of Sodor
Sir Robert Norramby is the Earl of Sodor. He owns Millie and Stephen. He drives a yellow car, and is also Duke's current grace.
Bio
After spending many years travelling the world, the Earl returned to Sodor to restore King Godred's Castle on his estate at Ulfstead. Later, he sent Stephen to the Sodor Steamworks to have him restored in time for the opening of the castle. However, when Stephen went missing in a mine, he managed to find King Godred's golden crown, something that the Earl was desperately looking for.
In the seventeenth season, he arranged with Mr. Percival for Millie and Luke to swap jobs for a day. Later, he convinced Sir Topham Hatt to dress up as Santa Claus to entertain the children at the Ulfstead Castle Christmas Fair. He also gave Stephen the special job of collecting ingredients for the afternoon teas at the Castle.
In Tale of the Brave, Thomas finds some bones which turn out to be the ones Sir Robert has been looking for to complete his dinosaur skeleton.
Persona
Sir Robert Norramby is a railway buff and a gentleman explorer, who owns an estate on the island of Sodor. With his white beard and longish hair he may seem a little eccentric, but he is an old friend of Sir Topham Hatt and has come home to the island after many years travelling the world. Sir Robert often says "I love a good surprise!".
Appearances
Specials:
Trivia
Voice Actors
Merchandise
Gallery