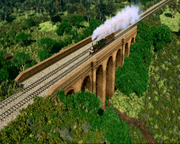 The Viaduct has appeared in the television series such as when Gordon lost his dome in 1958. It was repaired in Better Late Than Never in 1986. The viaduct is located west of Cronk, it goes over theHawin Ab.
It is not to be confused with The Big Dipper or the viaduct mentioned inHaunted Henry.
Trivia
The viaduct was seen in every season of the television series until the fourth season. It then reappeared in the sixth and seventh seasons and was not seen again until the ninth season, when a railway line seemed to run under it instead of a river. As of the thirteenth season, the viaduct appears to be back to its original state (excluding the river).
In the ninth season, Percy took the oil painter to the viaduct while looking for the Spirit of Sodor, but the painter complained that it was too tall.
To date, the viaduct has only needed repairs once since its completion, when its arches needed strengthening in 1986.
The TV model of the viaduct is now on display at Drayton Manor, however it was shortened and it has only one track running on it.
Gallery