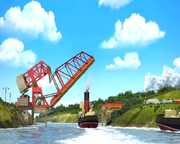 Vicarstown Bridge is a rolling bridge of 120ft span which is situated at Vicarstown and connects Sodor to the Mainland. It was designed by Sir Topham Hatt I and was erected in 1915. Since 1925 the NWR has rights to run powers over the bridge to Barrow-in-Furness. Also since that year the Other Railway is allowed to operate the joint BR/NWR service over the bridge to Norramby. 
In the television series, it was introduced in the seventeenth season. It is frequently used by all the engines, especially by Connor and Caitlin who transport tourists from the Mainland to Ulfstead Castle on a regular basis. The bridge was closed overnight in the seventeenth season episode, Calm Down Caitlin whilst it underwent some maintenance.
Trivia
The gates at either end of the bridge appear to change between yellow and red.
The television series presents both the bridge and the channel it crosses as being smaller than they ought to be; the distance between Sodor and the British Mainland is far larger than an average river and bridging it was an enormous undertaking.
Gallery