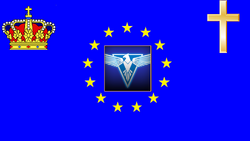 Our Wiki's Flag
Based On: The Internationale
Original Lyrics: Eugène Pottier, 1871
Music: Pierre De Geyter, 1888
Renaming of the Lyrics: SilverWing17
Language: Russian, English (Subtitles)
Every man is born with a natural love for music. But there are a few people who can make good compositions that amuse the human heart. And there are but a few songs that last long like the way artifacts last in a museum. Most people pause from their busy lives and relax with music - doctors wearing white gowns, athletes wearing jerseys, or students wearing uniforms. Scientists think was never a man who innately hates music. Why? Because music is the language of the soul. Here in this wiki, we take that to heart. We have our own flag and anthem for something to sing and to show loyalty to the wiki.
Lyrics (Translated to English)
Arise, ye branded with a curse 
All the world's starving and enslaved!
Our intellect is boiling over and we are ready for the deadly battle
We will improve this world of spammers
Down to is foundations, and then
We will improve this new world:
They who are nothing will become everything
Chorus:
This is our final and deceive battle:
With the Internationale, humanity will rise up!
This is our final and deceive battle:
With the Internationale, humanity will rise up!
Only one will grant us our salvation,
Not a king, nor hero, but God.
To win our emancipation depends upon us and him.
To take down oppression with a skilled hand,
To reclaim what is truly ours:
Fire up the furnace and hammer boldly
While the iron is hot!

(Chorus)

Only we, the workers of the world-wide,
The great army of labour,
Have the right to own the land;
But the parasites - never!
And if the great thunder rolls
Over the pack of dogs and executioners,
For us, the sun will shine forever
Shine on with its fiery beams.

(Chorus)
Audio
10pxe/t8EMx7Y16Vo1
Trivia
Despite changing the lyrics in English, the Russian version remains the same.